The Ferroli 25S System Gas Boiler is part of the Ferroli's new range of wall-mounted A-rated Modena HE boilers has set a new standard for the domestic market. As a high performance, energy efficient and affordable appliance, the Modena HE is unbeatable in its class.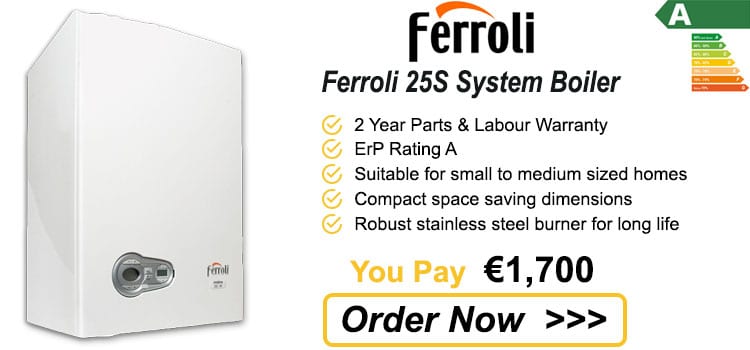 Save up to 30% on your Energy Bills

2 Year Parts & Labour Warranty

Directly Employed Expert Installers
The Ferroli 25S System Gas Boiler is so compact that it can be sited virtually anywhere and because it is extremely lightweight, installation can be completed with only one pair of hands. It's so easy to fit that it takes less time to install than comparable boilers which allows for cost savings to be passed on to the customer for an attractively priced job. An exceptionally low operating noise level means it's barely audible.
With only four moving parts – pump, fan, gas valve and DHW water flow meter – and no plate to plate heat exchanger or diverter valve, the Ferroli 25S System Gas Boiler guarantees exceptional reliability and is very easy to service and maintain.
The Ferroli 25S System Gas Boiler more than meets consumer demand for constant heat and hot water whilst saving them money on fuel bills and helping them to reduce their carbon footprint.
NOx Class 5+ & SEDBUK A rated for extremely low emissions and high performance
Operates on both natural gas and LPG
No plate to plate heat exchanger or diverter valve
Only 4 moving parts – pump, fan, gas valve and DHW water flow meter
New unique stainless steel innovative bi-thermal heat exchanger
Robust stainless steel burner for long life
Comes with integral filling loop
Condenses in hot water mode
Central flueing for easy replacement installations
Maximum operating temperature 90°
The Sustainable Energy Association of Ireland (SEAI) recommends that you should replace or upgrade your gas boiler if it is more than 15 years old. Even if there are no apparent problems, it's unlikely to be running above 70% efficiency (new gas boilers are more than 90%) and reliability is likely to be an issue.
Help it run more efficiently, reducing your heating costs
Reduce your heating costs by up to 25%
Improve reliability and safety
Improve your Building Energy Rating (BER)
Save up to 20% operational improvement in efficiency. That means more than 25% in fuel savings. Combine it with zoned controls and your savings can increase to over 35%.
In other words, you can cut your fuel bills by a third by replacing an older, low efficiency gas boiler with a high efficiency gas boiler and zoned controls.
1. Contact our office


Contact our office by phone ( 01 514 3344 ) or email and we will arrange a time and day for our sales rep to call out to you.
2. Sales rep visit


We pass on your details to our sales rep and they will call to let you know when they will be arriving. (There is no charge for visit)
3. Free written quotation


The sales rep will survey what works need to be done and will give you a free written quotation for the gas boiler replacement.
Please Note * If earth bonding is required in the installation of the boiler to bring it up to current regulations I.S. 813, there will be an additional flat rate fee of €350 for up to 10 metres of bonding.