Firebird Enviromax Heatpac C26 External Module 20 – 26 KW Oil Boiler. The Enviromax Heatpac range does not need to be housed in a building, thereby reducing cost and labour. The boilers come with removable sides for easy access to any part of the unit. Piping may be carried out from the back or from underneath.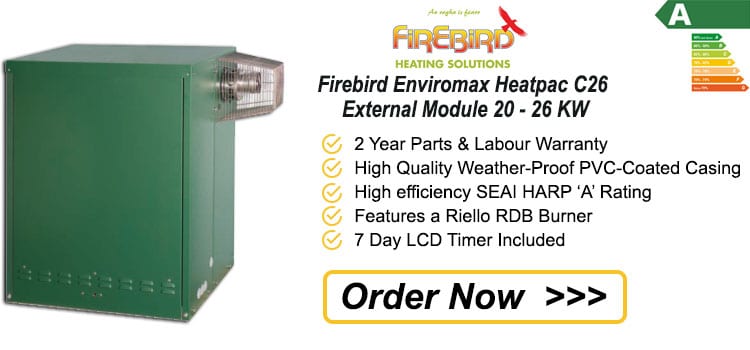 Save up to 30% on your Energy Bills

2 Year Parts & Labour Warranty

Directly Employed Expert Installers
Firebird Enviromax Heatpac C26 External Module 20 – 26 KW
Boiler removal & installation
Power Flush your Central Heating System
Descaler & Inhibitor – Central Heating Cleaner
Firebird Enviromax Heatpac C26 External Module 20 – 26 KW is specifically designed for outdoors, eliminating the need to build a boiler house.
High quality weather-proof PVC- coated casing
Fully insulated to prevent heat loss
Patented heat exchanger design
4-tapping points for ease of installation
Fitted with frost protection stat
Stainless steel terminal guard
High performance Riello RDB burner
Removable side panels for easy access
The Sustainable Energy Association of Ireland (SEAI) recommends that you should replace or upgrade your oil boiler if it is more than 15 years old. Even if there are no apparent problems, it's unlikely to be running above 70% efficiency (new oil boilers are more than 90%) and reliability is likely to be an issue.
Help it run more efficiently, reducing your heating costs
Reduce your heating costs by up to 25%
Improve reliability and safety
Improve your Building Energy Rating (BER)
Save up to 20% operational improvement in efficiency. That means more than 25% in fuel savings. Combine it with zoned controls and your savings can increase to over 35%.
In other words, you can cut your fuel bills by a third by replacing an older, low efficiency oil boiler with a high efficiency oil boiler and zoned controls.
1. Contact our office


Contact our office by phone ( 01 514 3344 ) or email and we will arrange a time and day for our sales rep to call out to you.
2. Sales rep visit


We pass on your details to our sales rep and they will call to let you know when they will be arriving. (There is no charge for visit)
3. Free written quotation


The sales rep will survey what works need to be done and will give you a free written quotation for the gas boiler replacement.
Please Note * If earth bonding is required in the installation of the boiler to bring it up to current regulations I.S. 813, there will be an additional flat rate fee of €350 for up to 10 metres of bonding.