Are you in need of a boiler service? If your boiler is acting up, it's vitally important that you contact a gas safe registered engineer who can check your boiler for issues. Performing an annual boiler service is the easiest way to keep your gas boiler in tip-top shape and avoid any potential issues in the future. Regardless of how long you have your gas boiler, when conducting a
gas boiler repair
we always do our utmost to ensure that you can keep your boiler if there are any issues, but sometimes you may just need a new boiler. Get in touch with us today to arrange your gas boiler service, we are sure to have boiler engineers in your area.
How Much Does a Boiler Service Cost
DeWAR are offering a special price of €120 for a Service, saving you €10 off the standard price of €130, when you book and pay online. By servicing your gas boiler once a year, you can be sure it's running safely and efficiently. A more efficient boiler can also save you money on your heating bill.
*Please Note, if your gas boiler is not working correctly then we are not able to service it, therefore you will need to book a Gas Boiler Repair.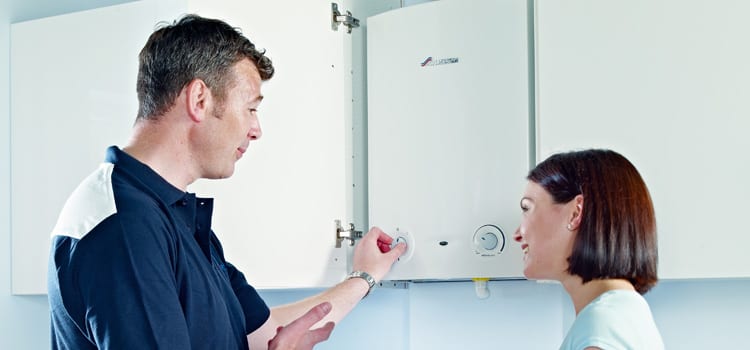 Cost of a Gas Boiler Service

| Job | Normal Price | Online Price |   |
| --- | --- | --- | --- |
| Gas Boiler Service | €130 | €120 | Book Online |
| Gas Boiler Service & Carbon Monoxide Alarm | €189 | €169 | Book Online |
| Gas Boiler Service & Rebalance Radiators | €200 | €180 | Book Online |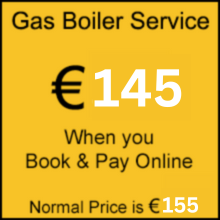 Boiler Service Dublin
First of all we strongly recommend a yearly Boiler Service for your system because it is in the interest of your Gas safety and Greater Energy Efficiency because we know that people sometimes put off the decision. DeWAR Gas & Oil Service offer a Service for just €130 but if you Book & Pay Online it is only €120.
Please note:
Our €120 Service is only available in Dublin when you book & pay online and this covers the 45 minutes of servicing. If the boiler needs new parts and labour, consequently there will be an extra charge. Additional labour is charged at €60 per 30 minutes and the service engineer will always talk you through the requirements and agree on the final cost with you before the work goes ahead.
Furthermore services are carried out by our RGII registered gas installers in compliance with Irish Standard I.S.813 and current Health & Safety regulations.
Service includes:
28 point boiler health check
45 minutes of labour
Service safety check
Electrical checks
Boiler Efficiency Check
* If the boiler requires new parts, there will be an extra charge. The service engineer will always talk you through the requirements and agree on the final cost with you before the work goes ahead.
FAQs
1. What is the 28 point check?
We will carry out the following tests and checks on your boiler:
Boiler location (is it suitable?)
Check boiler for visual damage
Appliance for correct operation
Correct ventilation as appropriate
Check Soundness test passed
Flue spillage where appropriate
Flue condition, routing and terminal location
Condensate drainage system (condensing boilers only)
Appliance clearance from combustible materials
Cold Check Effectiveness of flue
Main burner and clean as necessary
Pilot burner and probes/cables and clean as necessary
Heat exchanger and clean as necessary
Check/adjust record main burner pressure
Test operation of flame sensing control
Effectiveness of flue with boiler running
Gas soundness of appliance with boiler running
Electrical isolation and correct 3-amp fuse is fitted
Inspect electrical wiring for damage and correct connection to appliance
Operation of boiler thermostat
Operation of low water pressure control
System pressure
Check expansion vessel
Flue guard is fitted
Flue spillage (where appropriate)
Correct boiler operation including consumer controls (time clock, zone valves, thermostats)
Appliance conforms to I.S.813
Boiler Combustion Efficiency Test Results
2. How do I pay for my boiler service?
You can pay for your service over the phone by debit or credit card when you make your booking.
or
You can pay €120 for your service when you Book & Pay Online.
3. How will I know an DeWAR Gas Service Engineer?
Our engineers wear DeWAR branded clothing and carry an ID badge. If you are still in any doubt please free phone us on 1800 911 300.
4. What time will the Service Engineer call?
Appointments are available Monday to Friday. We will give you a morning or afternoon appointment, so either between 8.30am and 12pm or between 1pm and 5pm.
5. How often should I have my boiler serviced?
It is important to have your boiler serviced regularly to ensure your central heating is running efficiently and safely. Appliance manufacturers and the Sustainable Energy Authority of Ireland (SEAI) recommend that all appliances should be serviced annually.