The Vitodens 100-W gas boiler is efficient, compact, quiet and affordable. It features innovative technology and services combined with reliability and longevity, helping you to optimise your heating and save on energy costs.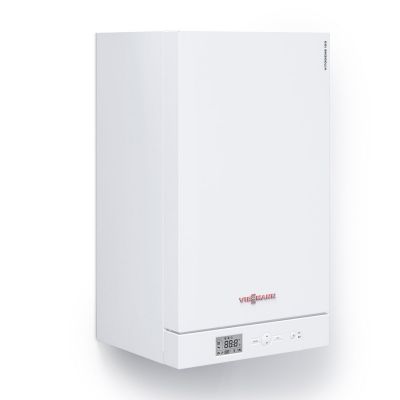 Quiet operation thanks to low fan speed
 Available in outputs from 3.2 to 32 kW
 High-quality stainless steel Inox-Radial heat exchange
 Up to 94% of the fuel used is converted into heat
 Compact design and low weight
 Low CO2 emissions for reduced environmental impact
 User friendly LCD Touch screen for easy operation
 Optional ViCare Thermostat means no third-party controls are required
 5-year guarantee with option to extend by a further 5 years for additional €92
 Class A rated for energy efficiency
The Sustainable Energy Association of Ireland (SEAI) recommends that you should replace or upgrade your gas boiler if it is more than 15 years old. Even if there are no apparent problems, it's unlikely to be running above 70% efficiency (new gas boilers are more than 90%) and reliability is likely to be an issue.
Help it run more efficiently, reducing your heating costs
Reduce your heating costs by up to 25%
Improve reliability and safety
Improve your Building Energy Rating (BER)
Save up to 20% operational improvement in efficiency. That means more than 25% in fuel savings. Combine it with zoned controls and your savings can increase to over 35%.
In other words, you can cut your fuel bills by a third by replacing an older, low efficiency gas boiler with a high efficiency gas boiler and zoned controls.
Please Note * If earth bonding is required in the installation of the boiler to bring it up to current regulations I.S. 813, there will be an additional flat rate fee of €350 for up to 10 metres of bonding.