The Vokera Vision 25S System Gas Boiler is extremely compact and comes with a rear flue option, making it one of the most flexible system boilers currently available.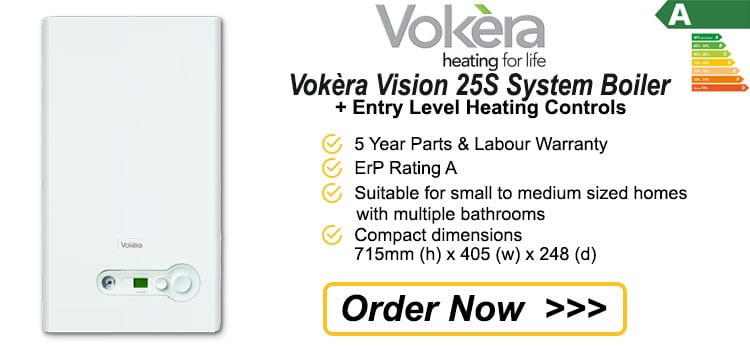 Save up to 30% on your Energy Bills

2 Year Parts & Labour Warranty

Directly Employed Expert Installers
Vokèra Vision 25S System Boiler
Entry Level Heating Controls
Boiler removal & installation
Upgrade & extension of gas line
Flexible and versatile flueing, with rear flue option
Boiler condensate connected into internal waste
Gas commisioning of system
Power Flush your Central Heating System
Gas commisioning of system
Optional pipe cover for a neat finish
Built in cyclonic particle separator
The Vokera Vision 25S System Gas Boiler is up to 92.2% efficient when installed with the weather compensation sensor or OpenTherm control (1), reducing running costs by up to 35% more than a conventional boiler which helps to safeguard the environment.
Comes with built in on-board relay enables the simplest of connections to 230V controls including: To enable/disable weather compensation on system boilers, to enable Y-plan compatibility with Vision system boilers and to enable use of non 'voltage-free' controls on Vision system boilers.
The Vokera Vision 25S System Gas Boiler is aesthetic including easy to understand diagnostic display aids the service engineer in the unlikely event of a fault developing.
Built in 7 day digital clock
Covered by 2 year parts and labour warranty
Extremely compact dimensions measuring 715mm (h) x 405 (w) x 248 (d)
Flexible and versatile flueing, with rear flue option
Built in cyclonic particle separator
Optional pipe cover for a neat finish
System version available within the Vision range.
All Vokèra boilers are manufactured to the highest quality with 100% being tested before leaving the factory.
The Sustainable Energy Association of Ireland (SEAI) recommends that you should replace or upgrade your gas boiler if it is more than 15 years old. Even if there are no apparent problems, it's unlikely to be running above 70% efficiency (new gas boilers are more than 90%) and reliability is likely to be an issue.
Help it run more efficiently, reducing your heating costs
Reduce your heating costs by up to 25%
Improve reliability and safety
Improve your Building Energy Rating (BER)
Save up to 20% operational improvement in efficiency. That means more than 25% in fuel savings. Combine it with zoned controls and your savings can increase to over 35%.
In other words, you can cut your fuel bills by a third by replacing an older, low efficiency gas boiler with a high efficiency gas boiler and zoned controls.
1. Contact our office


Contact our office by phone ( 01 514 3344 ) or email and we will arrange a time and day for our sales rep to call out to you.
2. Sales rep visit


We pass on your details to our sales rep and they will call to let you know when they will be arriving. (There is no charge for visit)
3. Free written quotation


The sales rep will survey what works need to be done and will give you a free written quotation for the gas boiler replacement.
Please Note * If earth bonding is required in the installation of the boiler to bring it up to current regulations I.S. 813, there will be an additional flat rate fee of €350 for up to 10 metres of bonding.