The Worcester Bosch Greenstar 24i System Boiler is a popular system boiler that is suitable for small to medium sized homes.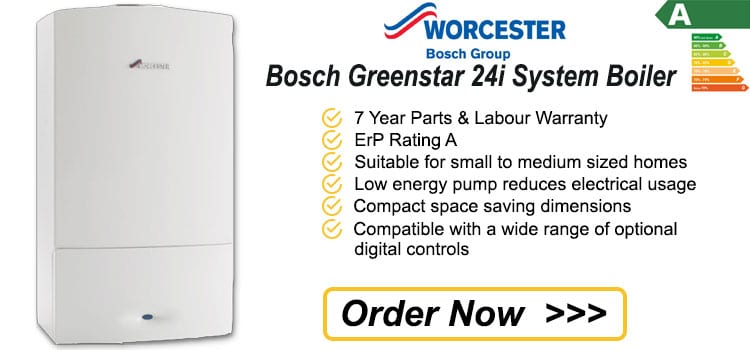 Save up to 30% on your Energy Bills

10 Year Parts & Labour Warranty

Directly Employed Expert Installers
The Worcester Bosch Greenstar 24i System Boiler are known for their high quality and reliability, making them robust enough to stand up to the highest of heating and hot water demands.
Ultra efficient and economical to run, Worcester system boilers incorporate many of the heating and hot water components found in a traditional heating system, making installation less disruptive and neater.
The compact size of Greenstar i System boilers means that they can fit perfectly into many locations, with the 27kW and 30kW models even fitting into a standard kitchen cupboard. With a smart design, they'll also look great in your home, whether alongside cupboards or placed on their own.
Hot water can be adjusted to fine tune your comfort
Wide choice of matching controls
Simple to use control panel which provides information on the boiler operation and allows the temperature of the water in the radiators and the hot water temperature to be adjusted.
Suitable for homes where the heating system includes a hot water storage cylinder
All system components are neatly contained within the boiler
Can be used with Worcester controls and Greenskies solar panels for energy and cost savings
10 Year Parts & Labour Warranty
The Sustainable Energy Association of Ireland (SEAI) recommends that you should replace or upgrade your gas boiler if it is more than 15 years old. Even if there are no apparent problems, it's unlikely to be running above 70% efficiency (new gas boilers are more than 90%) and reliability is likely to be an issue.
Help it run more efficiently, reducing your heating costs
Reduce your heating costs by up to 25%
Improve reliability and safety
Improve your Building Energy Rating (BER)
Save up to 20% operational improvement in efficiency. That means more than 25% in fuel savings. Combine it with zoned controls and your savings can increase to over 35%.
In other words, you can cut your fuel bills by a third by replacing an older, low efficiency gas boiler with a high efficiency gas boiler and zoned controls.
1. Contact our office


Contact our office by phone ( 01 514 3344 ) or email and we will arrange a time and day for our sales rep to call out to you.
2. Sales rep visit


We pass on your details to our sales rep and they will call to let you know when they will be arriving. (There is no charge for visit)
3. Free written quotation


The sales rep will survey what works need to be done and will give you a free written quotation for the gas boiler replacement.
Please Note * If earth bonding is required in the installation of the boiler to bring it up to current regulations I.S. 813, there will be an additional flat rate fee of €350 for up to 10 metres of bonding.