Gas Boiler Repair Dublin
Gas Boiler Repairs.
Can Cost You A Lot Of Money If You Do Not Maintain Your Boiler.
Contact Us Today: 015143344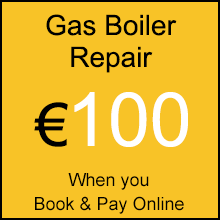 Here are some reasons why you should!
Save money on gas boiler repair
Full-blown boiler problems can often develop from minor faults.
Having an annual service will decrease the chance that these faults like a fan sticking.
Water penetration can cause electrical damage to the boiler.
Rust building up on gas safety valves.
Over pressurised systems can cause the system to blow water.
Will Reduce your heating costs.
Choosing the correct gas registered engineer who undertakes your gas boiler service.
They will make sure that it is running as efficiently as possible.
This will go a long way towards making sure that you minimize your heating bills.
Carbon monoxide can kill.
Boilers that aren't properly installed, maintained or ventilated can produce carbon monoxide.
It only takes a small amount of carbon monoxide to kill.
The Symptoms Of Carbon Monoxide Poisoning.
Headaches
Drowsiness
Nausea
Breathlessness
Stomach pains.
The signs are hard to spot and can be fatal. It sometimes can be confused with tiredness or a common cold. Unfortunately this silent killer can't be seen or smelt.
Attention landlords, it's the law
Landlords.
You have a legal responsibility to ensure each of your properties has a current Gas Safety Certificate. Only Registered Gas Installers are legally qualified to perform this gas safety check.
They will then issue a Gas Certificate 2 to prove it.
Do You Live In A Hard Water Area?
How do I know if I live in a hard water area?
The tell tail signs your kettle fills up with limescale.
Your iron show signs of limescale on the underside of the iron.
What can I do to help stop my heating system becoming damaged from limescale?
1. Have a Magnetic Filtration Unit Installed.
Magnetic filtration units are a proven high efficiency way of removing 100% of black iron oxide.
2. Give your heating system a Powerflush!
A power flush is a cleaning procedure carried out by our professionals that are trained and experienced.
Power Flushing means cleaning the central heating water, the pipes, pump, radiators and the boiler.
Everything that the central heating water runs through.
Using a combination of chemicals and magnets to aid the cleaning process.
If you are looking for a gas boiler service or an oil boiler service contact us today.