Gas Boiler Service Dublin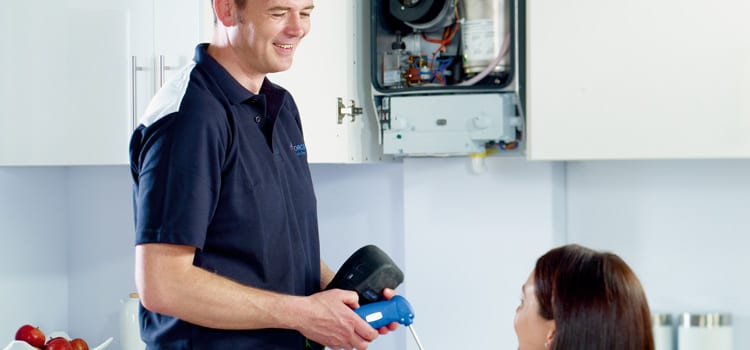 A gas boiler service ensures that your system is running at its maximum efficiency levels and ensures that no fuel (and, therefore, money) is wasted unnecessarily when operating your gas boiler. The service will highlight any issues you many have with your boilers efficiently or output. This could help with costly gas boiler repairs.
You could also have a CO alarm fitted with your boiler service and save money. DeWAR Gas Service have an online promotional price if you book them together online.
You could also have your radiators re-balanced in your home when your gas boiler is having its annual service. Dewar Gas Service have an online promotional price if you book them together online,
The check list on an annual gas boiler service
Boiler Location
Clearance
Ventilation
Gas soundness test on pipe work
Analysis of emissions from flue.
Circulation of water in pipework
Controls and Timers, Fuses etc.
Water pressure is at 1.5mbar and if not to refill same.
It is important to know under Irish Law it is a criminal offense for anyone that is not certified as a RGI (Registered Gas Installer) to work on your gas boiler boiler or gas line. All our staff at DeWAR Gas Service are directly employed and registered gas installers.
Below you will find a complete gas boiler service checklist which outlines everything that you should expect/demand from your gas contractor when they are carrying out an annual gas boiler service for your heating system.
DeWAR Gas Boiler Service Checklist:
Gas Boiler Visual Inspection:
• Make sure the gas boiler's location is suitable.
• Check that the gas boiler is properly ventilated.
• Look for visible damage on the gas boiler.
Check the following:
• Check the flue's location and condition.
• Check for spillages around the flue.
• Check the condensate drainage system (this only applies to high efficiency condensing boilers)
• Check that the gas boiler has suitable clearance from any flammable materials.
• Check the main burner and clean it where necessary.
• Check the main burner operation and adjust if need be (the manufacturer's specifications should be checked when doing this).
• Check the pilot burner and its cables. They should also be cleaned if necessary.
• Check the heat exchanger and clean where necessary.
• Check the flue's effectiveness while running the gas boiler.
• Check to make sure that a 3-amp fuse is properly connected.
• Check for electrical isolation.
• Check electrical wiring for damage.
• Check that electrical wiring is properly connected to the gas boiler.
• Check to ensure that the gas boiler's thermostat is functioning correctly.
• Check the system's pressure levels (the manufacturer's specifications should be checked when doing this).
• Check the expansion vessel and charge it (if necessary).
• Check that the flue guard is fitted properly.
• Check boiler controls (where applicable). These include zone valves, time clock, and the thermostat.
Once all checks are completed, a combustion efficiency test should be carried out.
After the gas boiler service is completed a Declaration of Conformance Certificate 3 is issued by the registered gas installer.
if you would like your boiler serviced you could book it online or by calling us on 015143344 anytime. We are service all areas of Dublin 24 hours a day.
Gas Boiler Repair Dublin
Gas Boiler Repairs.
Can Cost You A Lot Of Money If You Do Not Maintain Your Boiler.
Contact Us Today: 015143344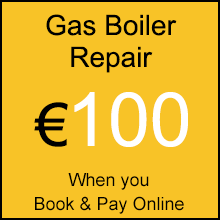 Here are some reasons why you should!
Save money on gas boiler repair
Full-blown boiler problems can often develop from minor faults.
Having an annual service will decrease the chance that these faults like a fan sticking.
Water penetration can cause electrical damage to the boiler.
Rust building up on gas safety valves.
Over pressurised systems can cause the system to blow water.
Will Reduce your heating costs.
Choosing the correct gas registered engineer who undertakes your gas boiler service.
They will make sure that it is running as efficiently as possible.
This will go a long way towards making sure that you minimize your heating bills.
Carbon monoxide can kill.
Boilers that aren't properly installed, maintained or ventilated can produce carbon monoxide.
It only takes a small amount of carbon monoxide to kill.
The Symptoms Of Carbon Monoxide Poisoning.
Headaches
Drowsiness
Nausea
Breathlessness
Stomach pains.
The signs are hard to spot and can be fatal. It sometimes can be confused with tiredness or a common cold. Unfortunately this silent killer can't be seen or smelt.
Attention landlords, it's the law
Landlords.
You have a legal responsibility to ensure each of your properties has a current Gas Safety Certificate. Only Registered Gas Installers are legally qualified to perform this gas safety check.
They will then issue a Gas Certificate 2 to prove it.
Do You Live In A Hard Water Area?
How do I know if I live in a hard water area?
The tell tail signs your kettle fills up with limescale.
Your iron show signs of limescale on the underside of the iron.
What can I do to help stop my heating system becoming damaged from limescale?
1. Have a Magnetic Filtration Unit Installed.
Magnetic filtration units are a proven high efficiency way of removing 100% of black iron oxide.
2. Give your heating system a Powerflush!
A power flush is a cleaning procedure carried out by our professionals that are trained and experienced.
Power Flushing means cleaning the central heating water, the pipes, pump, radiators and the boiler.
Everything that the central heating water runs through.
Using a combination of chemicals and magnets to aid the cleaning process.
If you are looking for a gas boiler service or an oil boiler service contact us today.
What To Do If Your Boiler Loses Pressure ?
What To Do If Your Boiler Loses Pressure ?
What is Involved in a Gas Boiler Service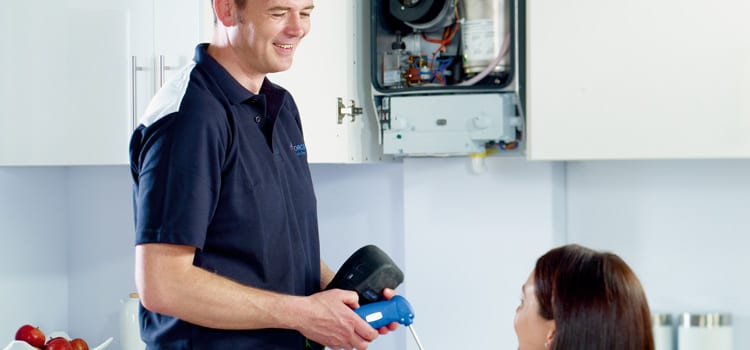 What is Involved in a Gas Boiler Service ? – First of all we strongly recommend a yearly Gas Boiler Service for your system because it is in the interest of your Gas safety and Greater Energy Efficiency because we know that people sometimes put off the decision. A gas boiler that isn't working efficiently will waste a small fortune on heating bills.
What is Involved in a Gas Boiler Service ?
What do They do in a Gas Boiler Service ? – The engineer will remove the gas boiler casing to look at its components. They will check the gas boiler is working safely and efficiently. A good service includes checking:
The engineer will inspect your boiler and controls to make sure they are operating safely.
The inspection will include checking your boiler for corrosion and leaks.
Your boiler casing will be removed to check the functioning of its main components.
A gas pressure check will ensure your boiler is operating at the correct gas pressure.
A flue test will ensure that no unsafe emissions are being released from your boiler.
Your boiler's parts will be cleaned as required.
Your boiler's casing will be put back on and properly sealed.
The engineer will leave a checklist with you including all of the relevant information you need about the safety of your boiler.
How Long Does it Take for a Gas Boiler to be Serviced?
A Gas Boiler Service will take about 30 minutes to 45 minutes if it is done properly. If urgent gas boiler repairs are required then the check may take longer.
How Much Does it Cost to Service a Boiler?
DeWAR Gas Service are offering a special price of €69 for a Gas Boiler Service, saving you €10 off the standard price of €89, when you book and pay online.
Cost of a Gas Boiler Service

| Job | Normal Price | Online Price | |
| --- | --- | --- | --- |
| Gas Boiler Service | €89 | €79 | Book Online |
| Gas Boiler Service & Carbon Monoxide Alarm | €129 | €109 | Book Online |
| Gas Boiler Service & Rebalance Radiators | €170 | €130 | Book Online |
*Please Note, if your gas boiler is not working correctly then we are not able to service it, therefore you will need to book a Gas Boiler Repair.
The price of a gas boiler service does not include the cost of repairs, although if the gas engineer is able to carry out simple repairs at the same time as the service if they have the required parts to hand. The gas engineer will advise you on the cost of any repairs that need to be carried out, and will likely arrange another appointment to complete them.