What To Do If Your Boiler Loses Pressure ?
Tuesday, November 27th, 2018
What To Do If Your Boiler Loses Pressure ?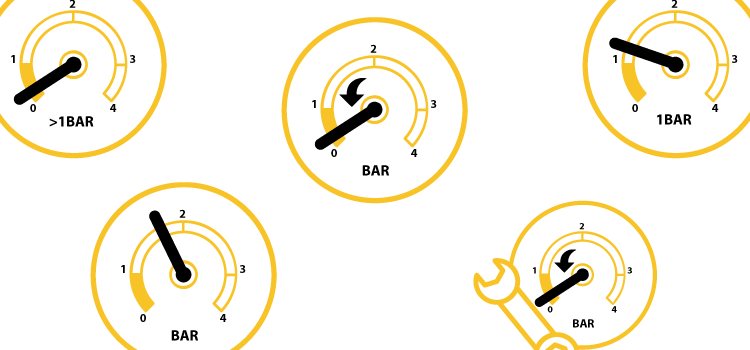 Boiler loses pressure ? Your combi boiler can be losing pressure for a number of reasons but the good news is that low pressure is relatively easy to diagnose and, in some cases, you can put it right yourself. Listed Below are a number of reasons to why your boiler has low pressure and how to fix it.
What is boiler water pressure ?
Your boiler will heat cold water that flows around the pipes and radiators throughout your home. The water pressure in your home needs to be stable for it to work efficiently. Water pressure in most modern combination boilers is maintained by a 'filling loop', which connects to your cold water pipe.
What Causes Low Boiler Pressure ?
There are two main causes for low boiler pressure, which are:
Water Leaks : A leak from your pipes, boiler or radiators can often be hard to spot but take a look around your home for any damp patches and water. You should never attempt to look for leaks inside your boiler though, always contact a RGI Registered engineer.
Bleeding Radiators : When you bleed a radiator you're releasing air and with it lowering the pressure in your system, which can create a drop in water pressure as a result.
Is Your Boiler Losing Pressure But There is No Leaks?
Whether you have an oil or gas, system or combi boiler, pressure loss is usually directly related to a leak. 99% of the time, a boiler losing pressure is a leak. Unless the dial sits at 0 even when topped up there's a leak somewhere, even if you can't see it.
Boiler Losing Pressure But There is No Leaks ?
Pressure Relief Valve is Faulty :
Boilers will normally operate at 1.0 bar – 1.5 bar but they can reach 3 bar if there is a problem.
A pressure release valve notices this abnormal change in system pressure and releases it.
If the PRV has failed, it will cause the boiler to lose pressure.
You will require a gas boiler repair at this stage.
Auto Air Vent Leaks :
Central heating systems can collect air pockets over time.
Bleeding the radiators is the best solution, but the auto air vent which is normally inside the boiler casing.
Leaking Radiators, Towel Rails and Radiator Valves are Leaking :
The smallest of leaks with radiators can cause your system to lose pressure.
This is the most common cause low boiler pressure.
Check all your radiators, radiator valves and towel rails and see if there is any sign of water leaking.
A small weep on a radiator valve is enough to cause low pressure on your boiler.
If any of the connections are very loose, carefully tightened them up, this will usually solve the issue.
Radiators Are Full of Air :
If you've recently had work carried out to your central heating system, it may have collected some air in the radiators and towel rails.
You can release this pressure by using a bleed key.
To bleed radiators and towel rails, simply open the vent with the key slightly.
You'll start to here air hissing out, once the air stops water will start to drop out, now close the vent off. Do this to every single radiator and towel rail in the property.
Remember if you are constantly removing air from the radiators the pressure will drop each time you bleed the radiators.
Expansion Vessel :
A faulty expansion vessel can cause pressure loss in a boiler.
If re-pressurising the expansion vessel doesn't work, the vessel will need to be replaced to stop the boiler losing pressure.
Pressure Gauge is Faulty :
There is a chance the pressure gauge on the front of the boiler is not reading correctly, it is unlikely but it has happened.
This is quite dangerous, especially if you are constantly topping up the pressure.
Turn off the boiler and contact a RGI Registered engineer straight away.
How can I check my boiler pressure ?
Normally on the front of the boiler you will find a water pressure gauge, it will either be a needle gauge or a digital gauge which will indicate high and low pressure warnings.
Boiler Pressure Gauge

| Explanation | Pressure Bar Setting |
| --- | --- |
| 0.5 Bar : If pressure is below 0.5 bar, water has been lost from the system and must be replaced. | |
| 1.0 Bar : When the radiators are cold this is normal pressure. | |
| 1.5 – 2.0 Bar : When the radiators are hot this is normal pressure. | |
| 2.7 or above Bar : If the pressure gauge on your boiler indicates high pressure (above 2.75 bar), then you may need to bleed a radiator to bring the level down to around 1.5 bar. | |
How To Fix Low Boiler Pressure Myself ?
There is many brands and types of boilers, so the boiler pressure systems will differ.
The first thing to do is to check the boiler manual and see if you can re-pressurise the system yourself. Your boiler may have instructions on the rear of the control panel.
Please note that if you need tools to remove the panel on a gas boiler, don't touch it.
Call a RGI Registered Engineer to do this.
How to Re-pressurise Your Boiler Heating System
Turn the boiler off and give it time to cool down.
Locate the filling loop – this is usually a metal hose with 2 valves attached at each end.
Attach the filling loop to your system, if it's not already, ensuring it's tight and secure.
Open the valves on your filling loop (or valve if there's just 1) to allow water from the mains into the heating system – you should be able to hear the water flowing into your boiler at this point.
Keep an eye on the pressure gauge, filling it until it reaches the 1.5 mark is usually ideal and be careful not to over-pressurise the system.
Now turn the valves back to their original position to stop the flow of water.
You should then release the filling loop and expect some water to come out of the loop. If water is continuously flowing, tighten the valves.
Switch the boiler back on and if needed, press the reset button.
Do I need to call a RGI Registered engineer ?
After following these steps, you should be left with a re-pressurised boiler.
But If you are in any doubt about how to re-pressurise your boiler system.
Or you have already done so according to the user manual.
But are continuing to have pressure problems, please contact our expert RGI Registered engineers and we will diagnose and fix the problem.
Latest posts by Office Admin
(see all)
---