What is the Lifespan of a Gas Boiler?
Tuesday, September 8th, 2020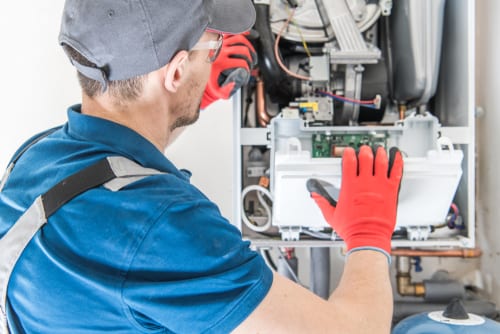 You may not think it, but your gas boiler is the heart of your home. Without your boiler, your comfort levels would be severely impacted, and it's likely that you won't realise just how much you rely on it until it breaks down.
With all of this in mind, it's vital that you keep your boiler running smoothly and in good shape. You also need to know the average lifespan of a gas boiler, and when it's time for a replacement.
The average gas boiler will last between 10 and 15 years if you look after it correctly. Read on as we discuss how you can ensure your boiler lasts as long as possible.
Purchase a reliable brand
Like anything in life, it can be tempting to save a little bit of money by buying a cheaper, lesser known brand. We would strongly advise against this as these cheap brands can cause major issues and end up costing you more in the long run.
At DeWAR Gas Service, we stock Worcester Bosch, ideal and Vokera boilers, which are respected brands known for being high-quality.
Make Sure the Boiler is Suitable for Your Needs
Choosing the right boiler is paramount to ensuring a well-functioning system. The kW output is used to measure the size of a boiler, and the size you choose is generally based off the number of radiators in your home.
If you install a boiler that's too small, you can place excessive pressure on the system, causing frequent breakdowns and reducing the system's lifespan. If you choose a boiler that is too powerful, you can quickly rack up some expensive energy bills.
If you have any questions about boiler size, one of our team would be happy to advise you.
Look for Credentials
It is against the law and also very dangerous to have someone who is not qualified to conduct work on any gas appliances. Ensuring that you hire the right person to carry out the required work is essential in ensuring your safety, and to prolong the life of your boiler.
At DeWAR Gas Services, all of our staff are RGII registered gas installers, so you know you're in safe hands.
Have Your Boiler Serviced Annually
An essential part of prolonging the lifespan of your gas boiler, having an annual service comducted by a registered expert will enusre that it functions optimally. During this service, any issues/potential issues can be spotted, so it could save you money in the long run.
If you take all of these tips into consideration, you can greatly enhance the lifespan of your gas boiler. Reach out to DeWAR Gas Services if you need any guidance or advice, we'd be happy to help!
Latest posts by OilDeWarGas112
(see all)
---